光孝寺简介
Introduction to Guangxiao Temple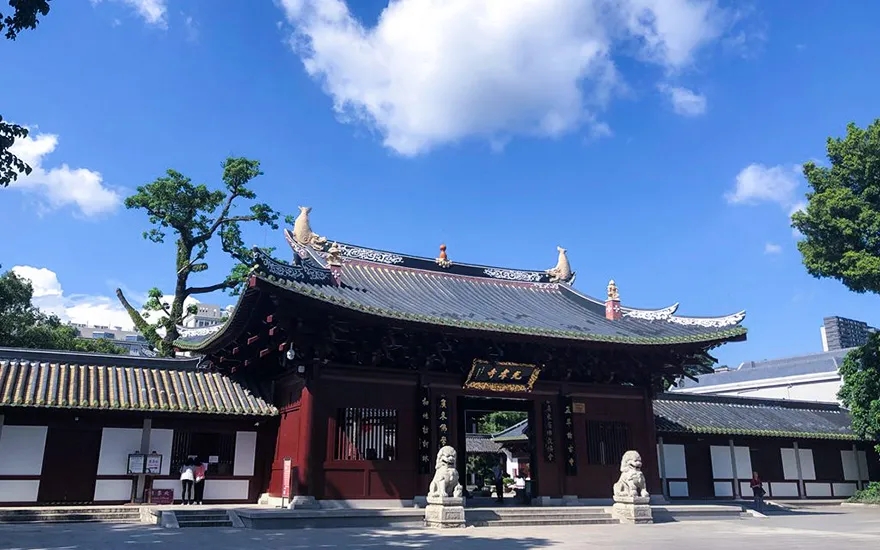 3月16日,广州光孝寺在微信公众平台上推出走进千年禅宗祖庭第一期:诃林雅集。视频中,光孝寺法师用地道的英语向人们介绍光孝寺的悠悠历史,并预告下期内容:解脱之门。敬请关注!
在繁华的广州市中心,有一座寺庙坐落在喧闹中,独享一片宁静。这座寺庙就是光孝寺。
In the bustling city center of Guangzhou, a temple stands right in the midst of all the noise peacefully. This temple is Guangxiao Temple.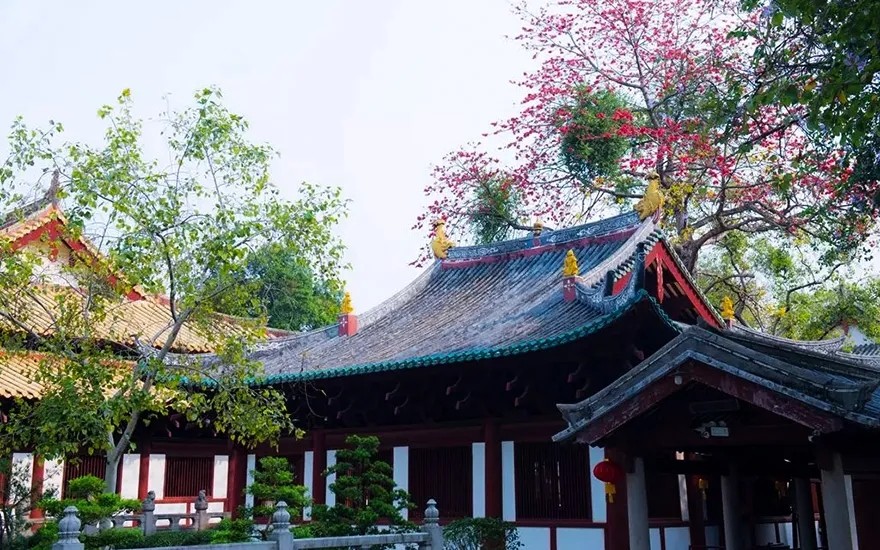 "未有羊城,先有光孝。"这是一句广州流行的民谚。"羊城"是指广州,"光孝"是指光孝寺。这句民谚说明了光孝寺有非常悠久的历史。在岁月的变迁中,今天的她依然闪耀着光辉。
There is a popular local saying: "Guangxiao predates the founding of the City of Rams", in which the "City of Rams" refers to Guangzhou while "Guangxiao" is the temple. What is really emphasized here by the saying is the long history of the temple. Even after the vicissitudes of time, somehow this ancient temple is still shinning today.
光孝寺最初由三国时期东吴官员虞翻的苑囿改建而成。最初是一座寺庙,名为王园寺。后来,分为两座寺庙,分别是王园寺与制止寺。唐初,这两座寺庙改名为乾明寺和法性寺;之后这两座寺庙几经分合与更名。公元1151年(宋代绍兴二十一年),这座寺庙改名为"报恩光孝禅寺","光孝"之名从这里开始。南宋晚期开始使用简称"光孝寺",并沿用至今。
The temple was initially converted from the residence of Yu Fan, an official of Kingdom of Wu during the Three Kingdoms Period. It was a temple called Wangyuan Temple or King's Garden Temple, and then it was divided into two temples: Wangyuan Temple and Zhizhi Temple. In the early Tang Dynasty, they were renamed Qianming Temple and Faxing Temple. After that, it was repeatedly merged, disassembled and renamed until 1151 A.D. in the Song Dynasty ,when it was renamed Bao'en Guangxiao Temple, or literally, the Temple of Paying Gratitude and Bright Filial Piety. The name of Guangxiao Temple was later used for short since the late Southern Song Dynasty.
光孝寺是岭南佛教丛林之冠,是岭南地区现存最早、规模最大的名刹,是中国禅宗祖庭之一。
Guangxiao temple is one of the most important ancient Buddhist temples in Lingnan region. It is the earliest and largest one of its kind in this region, as well as one of the founding temples of Chinese Chan Buddhism.
光孝寺在历史上享有盛名,在中国佛教史上具有重要地位,见证了佛教由海上丝绸之路传播到中国的历史。各国高僧,如昙摩耶舍尊者、达摩祖师、鉴真大师等高僧都曾在寺中弘法,为中外文化交往留下了宝贵的篇章。
Guangxiao Temple enjoys a great historical reputation for its important role in the development of Chinese Buddhism. It witnessed the spread of Buddhism into China via the Maritime Silk Road. Eminent monks with different nationalities such as Master Dharmayasas, Master Dharma, and Master Jianzhen taught Dharma in this temple, leaving valuable records of cultural exchanges between China and other countries.
在这些高僧当中,最著名的当属六祖惠能大师,他在寺内中国第一棵菩提树下剃度受戒。在寺内庭院中,他那场"风动还是幡动""仁者心动"的"风幡论辩",名震佛门,传诵千古。他开创并发展了南派禅宗,为中国佛教做出了不可磨灭的贡献。
Among these Dharma teachers, the Sixth Patriarch Hui Neng must be the most well-known one. He was ordained to be a monk under the first Bodhi tree of China right in this temple. And it was here that the famous "Flag-or-Wind Argument" took place, which greatly impressed Buddhists as one of the classics through ages. He made an indelible contribution to Chinese Buddhism by founding and developing Southern Chan School.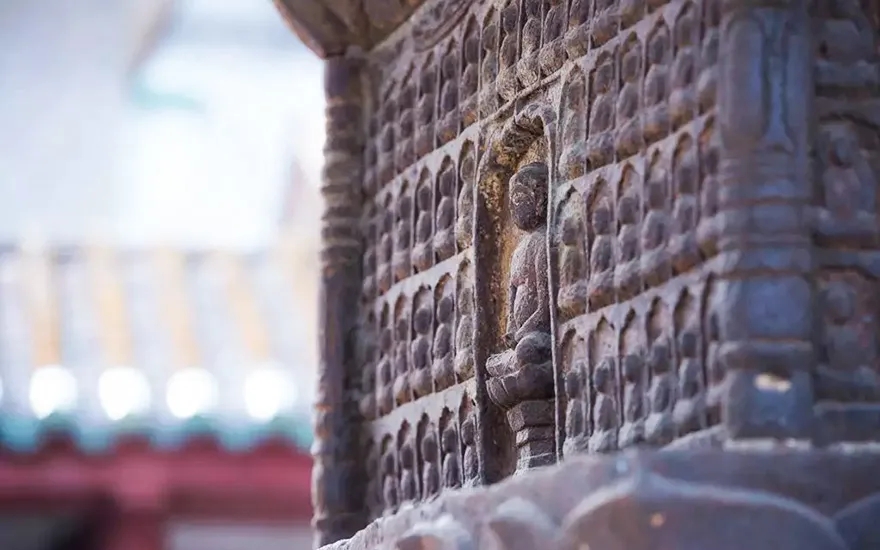 除了这些历代高僧的行迹,寺内还保存有一些历史"宝物",比如中国第一棵菩提树、洗钵泉、瘗发塔、大悲幢、还有东西铁塔等。
In addition to accounts of these eminent monks of dynasties in the past, there are some tangible "treasures" left by them in the temple, such as the first Bodhi tree documented in China, the Spring for Washing Alms Bowls, Hair-Inhumed Pagoda, Great Compassion Column, East Iron Tower, West Iron Tower and so on.
1961年,光孝寺被国务院公布为首批全国重点文物保护单位。2012年,作为广州海上丝绸之路的重要组成部分,光孝寺被列入《中国世界文化遗产预备名单》。
In 1961, Guangxiao Temple was announced as one of the first batch of major historical and cultural sites protected at the national level by the State Council. In 2012, as an important part of the Maritime Silk Road heritage of Guangzhou, it was included into China's World Cultural Heritage Tentative List.
今天的光孝寺,不仅是为佛教的传承提供了一处净地,也为我们了解中国佛教历史文化提供了重要的窗口。
Today, Guangxiao Temple does not only serve as a pure place for preserving Buddhist lineage, but also as a center for us to understand the history and culture of Chinese Buddhism.
光孝寺被誉为岭南第一名刹,她身上的每一处都写满历史。到目前为止,我们对历史悠久、声誉卓著的光孝寺作了简要介绍。
As one of the most important temples in Lingnan, Guangxiao Temple has a lot of stories to tell. So far we have given you a brief introduction to its long history and high reputation.